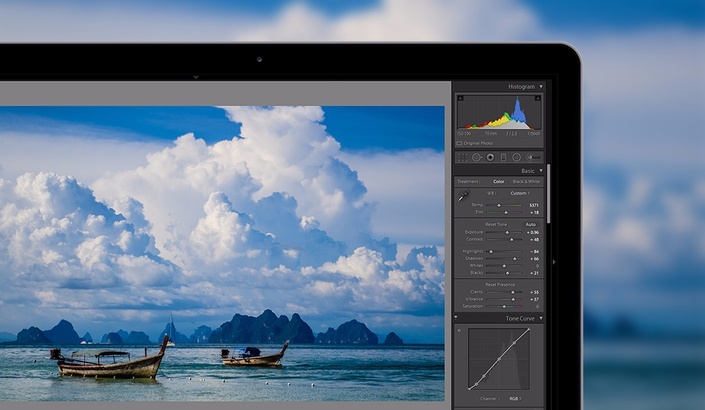 The Complete Lightroom Course
Learn my unique strategies to get your photos organized, cut your retouching time in half & become a Lightroom Ninja
Enroll in Course
John wished he had a magic lamp that could find his photos.
John stared at his screen. He was trying to look for his daughter's first photos to play as a slideshow at her 8th birthday. He had taken them 8 years and so many hard drives ago; he had no idea where they were.
He had 6 external hard drives with all his photos in them; and he didn't know which photos were in which one. He would just come back from his shoots, and whichever hard drive had space in it, he would plug that in, make a folder and then copied them onto it. That seemed quite convenient at the time but now his photos were all over the place. Not only that, but he also didn't know how to name his folders and files. Sometimes he would name his folders by date, sometimes by the name of the shoot. And his photos all had names given by the camera; like DSC_4078 & IMG_6397. This meant that now he couldn't search through his photos by name.
To make things worse, after every shoot, when he wanted to pick out his favorites, he would make more folders inside the folder of each shoot with names such as Selected or Rejected. When he wanted to retouch his photographs, he would open them one by one in Photoshop and apply many different settings individually to each photo, taking about twenty to thirty minutes per photo. Sometimes, it would take him several days just to retouch one shoot. Once he was done with his retouching, he would save it as a separate file in a separate folder usually called Edited or Final. Now, he had so many folders, with so many duplicate versions of the same photos, that it was a complete mess.
And now, he had to find photos of his daughter when she was born and he didn't know where to look. His 6 hard drives, each had hundreds of folders in them; and because his files & folders weren't named properly, he couldn't even run a search to find them.
Distressed, he reached out to his friends to help him out. Someone told him that he should use Lightroom to organize his files. So he got the software and installed it on his computer. Even after spending hours trying to understand it, he thought it was far too complicated of a software. He felt even more confused with Lightroom and eventually uninstalled it from his computer.
I was once like John.
For the longest time as a photographer, I didn't have any system for what I would do with my photos when I bring them on to my computer from my camera. I just did what seemed right.
Over time as I started shooting more and more photographs, the number of photos on my hard drive became more and more. I got hard drive after hard drive as they got full, and without even realizing, I had five to six different hard drives with no idea about which one contained what. All had mixed data on them; movies, tutorials, my design work… and my photos.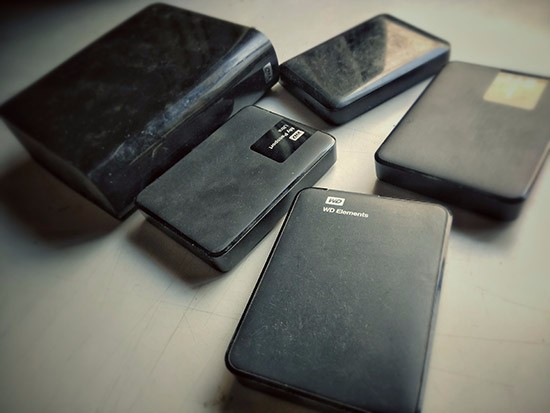 So many hard drives! I had no idea what's in which one!
I figured I had to get organized. But, I had no idea where to start. I figured I was probably not the only one with this problem. Many other photographers must have gone through the same problem and at least some of them would have found a solution. So, I got in touch with these professionals to ask them about their workflows. I arranged for Skype interviews with some of the best photographers from all around the world, that I had met when I attended international workshops & photography conferences. I spoke to photographers from the USA, UK, India, Malaysia & Australia and learnt about the systems they used for their photographic workflow. While each of them had different systems, one thing common with all of them was Lightroom. They were all using Lightroom to manage their files.
From these interviews, I picked out the best systems and strategies in Lightroom to manage my files and started putting them into practice. After carefully working out which systems worked and which ones didn't, I eventually came up with systems and strategies of my own.

Now, I have more than 225,000 photos from the past 10 years in my archive, but with the help of one of my strategies, The History Book Technique, they are all properly named, and clearly organized in one place. If I have to find any photo from this huge archive, then using Lightroom, it only takes me a few seconds to find it. Lightroom makes things so easy that when I come back from a shoot, I can pick out my favorites from hundreds of photographs, in not more than ten minutes, without creating any extra 'Selected, Final, Edited, Unedited' folders. I can now retouch an entire shoot containing hundreds of photographs in only twenty to thirty minutes with only a few clicks.
These systems really paid off!
Because of using all these systems, I was able to get my photographs published in a calendar for a multinational company. I received a call from the company, saying that they were publishing a calendar and their theme was the philanthropic nature of the Pakistani people. They needed some photographs of the relief work done for the floods in Pakistan that had happened in 2009. I knew I had taken photographs of the relief work though it had been a couple of years to that. It was just a matter of finding those photos and that was no problem at ALL! I did a quick search in Lightroom and all the flood relief photos came right in front of me within seconds.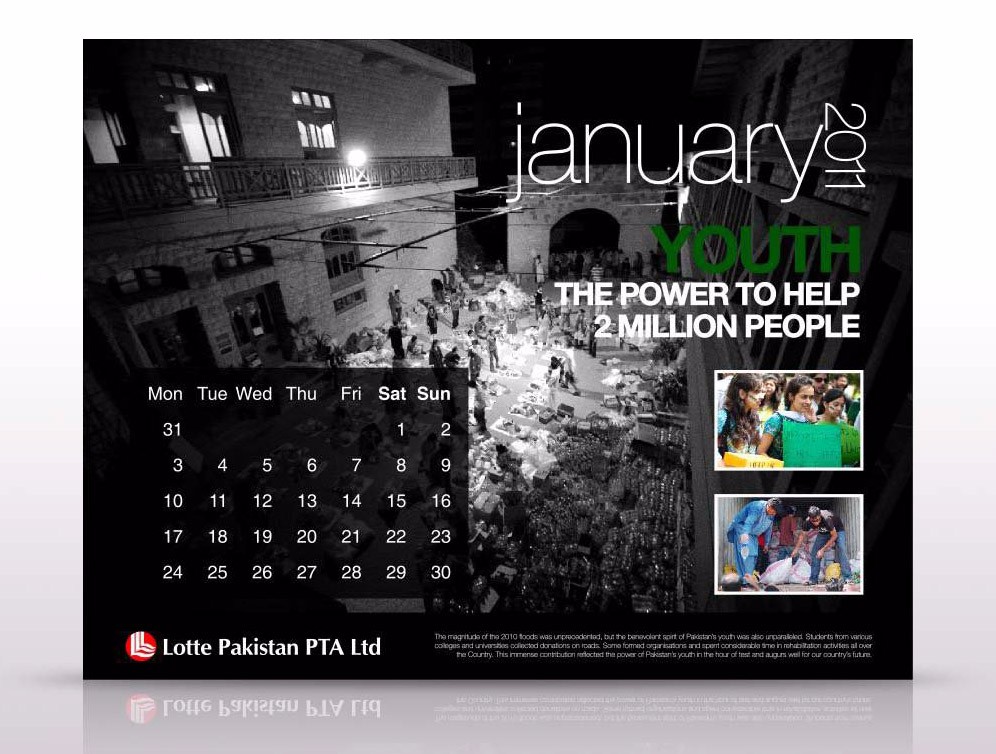 My photos got published in a calendar because of my systems in Lightroom.
If my folder structure was messy and I didn't know which photos were where, I would have turned them down. But, because I had these systems in place, I was able to find the photos in less than a minute. I shared them with the company and eventually got published (and paid a good amount). My photographs were seen by thousands of people which eventually led to more work!
I don't want to end up like John, and neither should you!
I recently had a daughter and I obviously love taking her pictures. To save myself from ending up like John, I have set up a few systems in Lightroom through which her photographs are automatically getting collected at one place, without me having to do anything at all.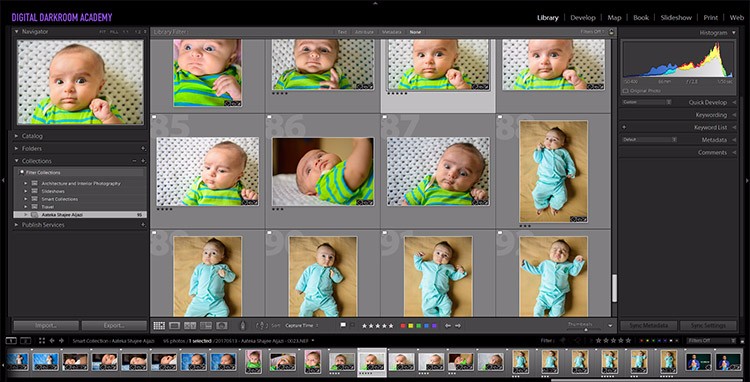 All photos of my daughter automatically get collected in this folder with the systems I've set up in Lightroom. I don't have to add them.
Every time I take her photos and bring them into Lightroom, they're also automatically getting stored in a 'kind of a folder' which contains all of her photos, right from the time she was born. That way, after a few years, when I want to see all her photos from her birth, all I have to do is go to that folder and they are all right there. And if I have to show a slideshow of her photos on her birthday, I know exactly where to go! Lightroom will even help me put up the slideshow!
That's the power of Lightroom and that's what I want to teach you!
The Complete Lightroom Course
Introducing The Complete Lightroom Course, a video course for photographers who want to get organized and have an effective post-processing workflow. Here's what you'll get in the course:
More than 7-hour video course, containing more than 100 bite-sized videos, taking you step-by-step through every part of Lightroom.
The History Book Technique – The strategy I use to organize more than 200,000 photos in my archive.
The IKEA Analogy – Understand the concept of the catalog with the help of The IKEA Analogy before you start using Lightroom.
The Jon Snow Effect – If you're making this mistake, you'll end up in trouble with your photos.
The Pencil Box Theory – Should you have one catalog or more?
how to search for any photo from your archive, within a few seconds, even if your archive is humongous.
Importing – How to make full use of the import panel, automating many repetitive tasks as you do it.
Shortlisting your Photos - how to go through your entire shoot and have your favorites picked out in a few minutes.
Keywording – how to keyword your photographs so you can find any photographs later on.
Collections & Smart Collections - how you can set up Lightroom so it can automatically sort out your portfolio (and other favorite photos) for you.
Synchronize - how to retouch an entire shoot with hundreds of photos in one-third the time.
Presets – how you can save your settings from one photo and apply them to others in the future.
The 3Cs of Retouching – The 3 fundamental things you should be thinking about when you start retouching – Contrast, Color, Clarity.
Local Adjustment Tools – everything about the Local Adjustment Brush, Graduated Filter, Radial Filter and the all new Range Mask.
Exporting - How to export photos so you can print them or share them online.
30 day money back guarantee: All risk is removed. If you don't like the course, then within 30 days, get a full refund.
and much more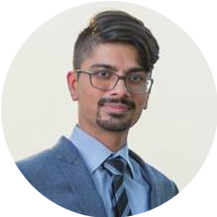 "After learning all the stuff Shajee teaches, I got to see the beauty of Lightroom. Not only did my retouching process become faster and non-destructive but the systems taught by Shajee help me keep all my photographs organized and easy-to-find!"
- Sarmad A, student of The Complete Lightroom CC Course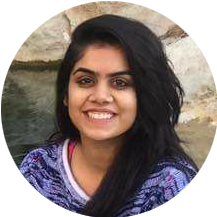 "Shajee's course taught me all about the great features of Lightroom in such a simple way. Now I can edit hundreds of photographs within minutes. The course also showed me an extremely efficient system of photo organization which saves a bundle of time when I have to look for old photos. Picking out favorites from a shoot of hundreds of photos is also now a very quick process with Lightroom."
- Marium A, Professional Retoucher
Course Curriculum
Introduction
Available in days
days after you enroll
How Lightroom Thinks
Available in days
days after you enroll
How to Clean Up Your Existing File Structure
Available in days
days after you enroll
Your Instructor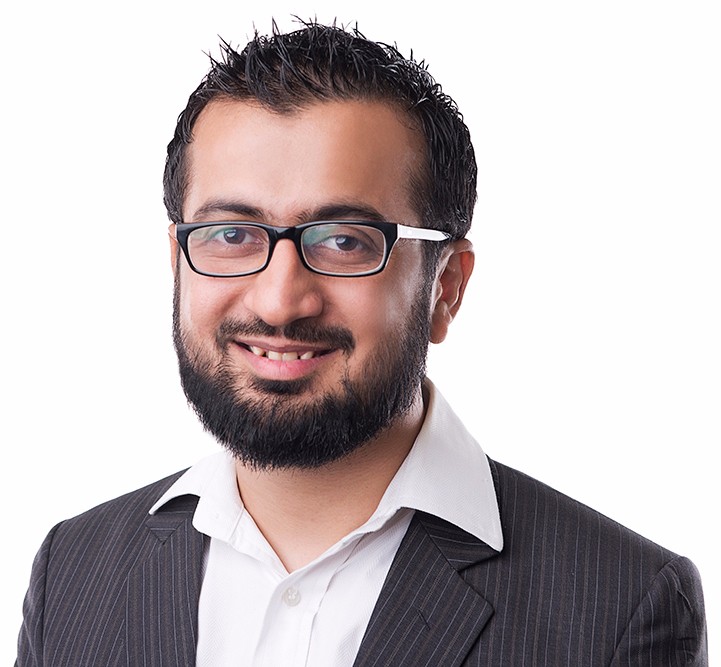 I am Shajee Aijazi, I am the founder of Digital Darkroom Academy. I have been a photographer for over ten years now. I help people speed up their post-processing workflow and organize their photos in a way that they don't have to waste time managing it. I, myself take one-third the time I used to take in retouching photos and now I take up three times the shoots, hence making three times more money.

I'm sharing my tested strategies that I discovered after thousands of hours of work so you can have the same success.


Frequently Asked Questions
Who is this course for?
• Any and all photographers, whether they shoot professionally (weddings, portraits, product, landscapes) or just for fun (family and travel photos).
• Photographers who want to clean up their messy folder structure and manage their photographs better.
• Photographers who want to spend less time retouching and more time doing what they enjoy, i.e. shooting more photos.
• Anyone who's opened Lightroom and found it intimidating because there's way too many tools in there.
• Photographers who are comfortable with Lightroom, but know that there's a faster way.
I don't have time.
Don't worry. The course contains video lessons that, on average, are not more than 5 minutes long. So, you can work your way through the course with as little as 5 to 10 minutes per day. You could set aside 10 minutes every day in your lunch break or the first thing you do when your day starts and you would be on your way to become a Lightroom Ninja.
Can't I get all this information for free?
Well, let's be honest. There is a ton of information online about Lightroom and you could dig around YouTube, blogs, ebooks to find this stuff. But Lightroom is not like other software, getting information in pieces about the advanced parts of the software without understanding the fundamentals can land you in trouble. And while there is a lot of good information, there's also a lot of bad information; and if you don't know the right answers, it's difficult to judge who to trust. So, yea, if you dig deep, you can probably find a lot this information. However, would you want to? I have spent hours, reading, digesting, collecting and testing the best systems out there and discarding the bad ones. I have interviewed professional photographers and learnt their post-processing systems. In The Complete Lightroom CC Course, I have distilled only the best material for you in a systematic step-by-step way; taking you from the fundamentals to the advanced stuff; so you don't have to spend hours finding it online and filtering through the misinformation.
I've tried to learn Lightroom before, but have been discouraged and haven't had great success. How do I know this works?
With other software, you can probably just open it, start playing around and you can get the hang of it. But, Lightroom is not a software like others. It works on a catalog-based system; so if you don't understand that; you can mess things up. So, you can't really learn it just by playing around. Neither is looking at information online in pieces going to help, you until you understand how Lightroom thinks. It is really important to start from the fundamentals and then work your way up. In this course, I take you step-by-step from the very basics to the more advanced stuff.
But what about Photoshop? Don't I need to learn that too?
Photographers are using less and less of Photoshop as time passes, and more of Lightroom. The basic retouching you need to apply to most of your photographs, you can do it very easily in Lightroom. In fact, you can do it much faster in Lightroom than in Photoshop. Apart from that, Lightroom assists you in one more part of your post-processing workflow, which is managing your files. Photoshop can't help you there. It's only when you need to do advanced composites and layering that you need to go into Photoshop. Most of the other stuff, Lightroom can do it for you much faster.
Which Version of Lightroom do I need?
The course is taught using Adobe Lightroom CC 2015.8 [same as Lightroom 6] but most of the stuff can be done in the previous version as well. There's a few things that might not be available in the previous version, but you can do without them too.
When does the course start and finish?
The course starts now and never ends! It is a completely self-paced online course - you decide when you start and when you finish.
I already know Lightroom
There would be new stuff in the course for you even if you know the basics of Lightroom; but if you consider yourself an advanced user then this course is probably not for you.
How long do I have access to the course?
How does lifetime access sound? Yep, forever. Anything else? Yes! You also get lifetime updates - so anytime a new video or bonus feature is added, or even when the course is updated because Adobe came up with a new version of Lightroom, you'll be the first to know and will have immediate access to all new content.
What if I am unhappy with the course?
The course comes with a 30-day money back guarantee. I am willing to remove all the risk for you, because I am very confident that the course works. I will be there to help you out at every step through the Facebook community and through email; and if you're still not happy, I'll refund the full course cost, no questions asked.
THE NO QUESTIONS ASKED MONEY BACK GUARANTEE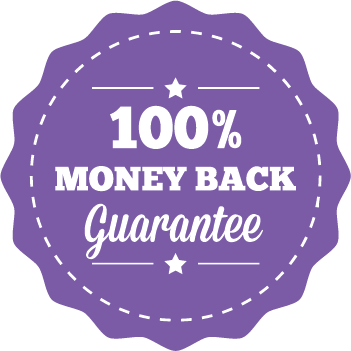 I know this course works. I have taught hundreds of students and they are a testimony to the fact that it works – which is why, If you don't LOVE this course, I offer you a 30-day money back guarantee.
I invite you to use the methods I outline in this course. I am very confident that you will have a much smoother workflow; and you will be taking much less time to retouch your photos. I will be there every step of the way to answer all your questions.
I built this course after testing out all the systems that are out there. I even tried a variety of my own different workflows until I arrived at the systems I teach in this course.
So, here's my offer to you: If you don't like this course within 30 days, get all of your money back, no questions asked. Join the course and see for yourself.